Although it is ideal to eat minimally processed foods and cook from scratch, the reality is that we all have to rely on packaged foods on a regular basis. Many of the ingredients we use to cook from scratch are packaged, so the skill of knowing how to interpret the food label is very useful. There is a wealth of information to be gleaned from a food label.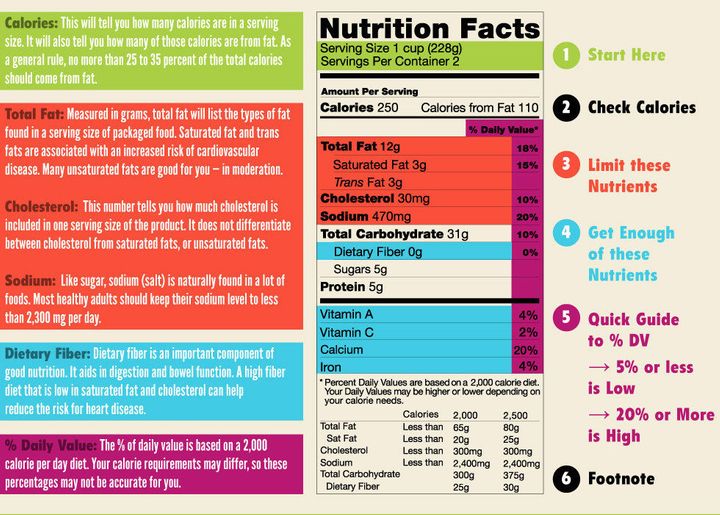 The Nutrition Facts Label helps us understand the nutrients that each particular food adds to our intake. Food labels can help you understand which foods are better choices for your particular needs. Before you start reading the rest of the label, look at the top to determine how many servings you are eating of that food in that meal or snack. Many foods come with multiple servings per package, like chips or beverages, that people tend to eat all in one sitting. If the package has three servings per package and you eat the whole package, multiply all the nutrients listed by 3 to determine your nutrient intake. Nutrients to pay attention to include:
Calories: This is how much energy the food provides. The amount needed per day varies from person to person, so ask me (or your dietitian) for help knowing your goal range.Fat and Cholesterol: People with CKD have higher risk for heart problems, so it is recommended that you eat a low fat, low cholesterol diet. Try to limit trans fats altogether, and limit saturated fats to less than 10% of your total caloric intake. Limit cholesterol to less than 300mg per day.
Sodium: It is wise to limit sodium if you are a CKD patient, as sodium contributes to water retention, increased thirst, and elevated blood pressure. High sodium intake may make it harder to avoid fluid overload. Try to limit sodium intake to 2000 mg per day. Be aware that many low sodium products have added potassium in the form of potassium chloride. You can find it in the ingredient list. Avoid this ingredient if you are on a potassium restricted diet.
Carbohydrate, Sugars, and Fiber: For people with diabetes, the carbohydrate content is important to look at to determine carbohydrate servings (15g carbohydrate = 1 serving) and possibly insulin needs. The amount of sugars currently includes both added and naturally occurring sugars. Soon, when the new food label comes out, the sugars that are added in manufacturing will be listed separately. Higher fiber content is beneficial in managing blood sugar levels, in slowing digestion thus helping you feel full longer, and in maintaining bowel regularity. A good source of fiber will have at least 10% of the daily value of fiber, while a high fiber food will have at least 20% of the daily value.
Protein: Many patients before they start dialysis are asked to limit their protein intake and dialysis patients need to eat a high protein diet. Look at the number of grams of protein on the label. Each 7 grams listed = 1 ounce of protein or 1 meat serving. Ask me, or your dietitian, how much protein you need each day.
Potassium: It is not yet required to list potassium on the food label, but it will be soon, when the new label comes out. If it is not listed, it doesn't mean that there is no potassium in that food! You may be able to get a general idea of the potassium content from looking at the ingredient list. (More on that later.) If potassium is listed, it will be just below Sodium on the label. Dialysis patients generally have a potassium restriction of 2000-3000mg per day. If the potassium content is 0-150mg it is low in potassium, 150-250mg is medium, and 250mg and above is high potassium.
Phosphorus: Phosphorus is not a requirement on the food label. Sometimes on health foods and supplements like protein bars and powder, it is listed. If so, low phosphorus is <50mg, medium is 50-150mg, and high is >150mg per serving. Take your binders with every meal and snack!
The ingredient list is the other place to sleuth out information on nutrient content.
If the Nutrition Facts Table doesn't provide potassium and phosphorus content, look at the ingredient list for foods that you know are high in these nutrients. Avoid ingredients like banana, cheese, chocolate, cocoa, coconut, cream, dried fruit, dried peas and beans, lentils, melon, milk, molasses, nuts, orange, peanut butter (or other nut butters), potassium chloride (KCl), potato, raisins, dark rye flour, frozen vegetables packed with sauce, spinach, tomato.
Look for phosphorus, or for words with PHOS, on the ingredient list. Many packaged foods like pancake mix, frozen waffles, boxed dinners, and beverages have these. Choose something else to eat when you find PHOS ingredients because this type of phosphorus is absorbed 100% by your body. Examples of phosphorus additives include phosphoric acid, hexametaphosphate, monocalcium phosphate, and tricalcium phosphate.
Potassium additives are used in place of salt sometimes in low sodium foods, like canned soup and tomato products. Avoid foods with potassium chloride on the label.Ingredients are listed by weight on the ingredient list, so the first few ingredients listed are what that food is primarily made up of. Make sure that is something you actually want to be eating! If sugar is the second thing on your cereal ingredient list, perhaps it has too much sugar and you should eat a different cereal.
Added sugar is harmful for many reasons, such as higher risk for diabetes, obesity, liver disease, heart disease, and dental issues. Added sugar finds its way into foods in many different ways. There are about 100 different names for sugar on a label. If the food has sugar listed near the top of the list, or if the food has many different forms of sugar in it, it is best to avoid that food. Look for words like anhydrous dextrose, brown sugar, cane crystals, cane sugar, corn sweetener, corn syrup, corn syrup solids, crystal dextrose, evaporated cane juice, fructose sweetener, fruit juice concentrates, high-fructose corn syrup, honey, liquid fructose, malt syrup, maple syrup, molasses, pancake syrup, raw sugar, sugar, syrup, white sugar, fructose (from fruit), lactose (from milk) and maltose (from grain). Some of the less apparent sugar names include carbitol, concentrated fruit juice, corn sweetener, diglycerides, disaccharides, evaporated cane juice, erythritol, Florida crystals, fructooligosaccharides, galactose, glucitol, glucoamine, hexitol, inversol, isomalt, maltodextrin, malted barley, malts, mannitol, nectars, pentose, raisin syrup, ribose rice syrup, rice malt, rice syrup solids, sorbitol, sorghum, sucanat, sucanet, xylitol and zylose.
Through this knowledge, we can all make better decisions about what we choose to eat, feel better, and enjoy a higher quality of life.