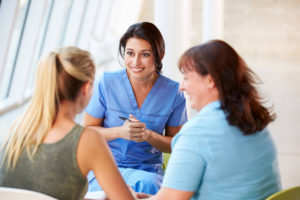 ADC has an interdisciplinary competent care team of Physicians, Nurses, Patient Care Technicians, Biomedical Technicians, Dieticians, Social Workers, Administrators and Clerical Staff. They provide you with compassionate quality care and educate on ways of living healthy and enjoying many activities on dialysis. The following are basic definitions and explanations of terms commonly used in the dialysis industry.
The Kidneys are blood-cleansing organs removing waste and excess fluid from the body in form of urine. The function includes production of hormones, regulation of blood pressure and maintaining a balance of fluid and electrolytes. Healthy people have two kidneys, each about the size of a fist, located behind the abdominal cavity, on either side of the spine at the lowest level of the rib cage. Each kidney contains about a million Nephrons, the filtering unit of the kidney.
Nephrologist: A Physician who specializes in diseases of the kidney.
Kidney Failure: If one kidney stops working, or both are partially damaged, the remaining kidney is usually able to perform adequately on its own. That is why kidney transplant donors and recipients are able to live well with a single functioning kidney. End Stage Renal Disease or total Kidney failure results from loss of function of both kidneys. Renal is another term used in reference to the kidney, as in Renal failure.
Causes of Kidney Failure: Diabetes Mellitus accounts for (40%) of all new kidney failure cases, followed by Hypertension (30%). Other causes include Cystic kidney diseases, Glomerulonephritis, Drugs, Infections, Inherited and Congenital kidney diseases.
Treatment of Kidney Failure: Kidney failure results in accumulation of toxins and fluid in the blood. Treatment options include Dialysis and Transplantation. There are about 500,000 Americans with kidney failure requiring dialysis or transplantation.
Dialysis: A life-saving procedure that involves removal of toxins and excess fluid from the body using the principle of diffusion and ultrafiltration through a semipermeable membrane. There are two types of dialysis. Hemodialysis is a process in which blood is removed from the body through a tubing and passes through a dialyzer (filter on a machine) which cleanses the blood and returns it back to the body. Peritoneal Dialysis is internal body dialysis which involves the injection of dialysate (a blood cleansing solution) into the peritoneum, the abdominal body cavity around the intestine, where the peritoneal membrane acts as the filter and works to extract toxins and excess fluid from the body.
Kidney Transplantation: Kidney transplant is the treatment of choice for suitable candidates with kidney failure. Kidney transplant patients require anti-rejection medications to prevent rejection of the kidney by the body. Patients no longer require dialysis after successful transplantation. Donated kidneys come from cadavers or living donors. There are about 80,000 Americans on the kidney transplant waiting list. Approximately 15,000 kidney transplants are performed annually in the United States.
Chronic Kidney Disease: A kidney problem such as protein in the urine and or having decreased kidney function for more than 3 months or longer. There are about 30 million Americans with Chronic Kidney Disease. Chronic kidney disease can progress to total kidney failure or End Stage Renal Disease.
Signs of Chronic Kidney Disease include facial and ankle swelling, puffiness around the eyes, high blood pressure, more frequent urination, blood and or protein in the urine and abnormal creatinine and Blood Urea Nitrogen (BUN) blood test. If you have any of the warning signs or suspect a kidney problem, see your primary care provider. If there is indication of a kidney problem, your primary care physician should refer you to a Nephrologist as soon as possible.
Prevention of Kidney Disease: Kidney failure is a life threathening condition. To maintain Kidney health you should: Drink plenty of fluids; exercise regularly; avoid smoking; maintain proper weight and diet, check for high blood glucose, blood pressure and cholesterol with your primary care giver. Follow up regularly with a Nephrologist if indicated.